Ji Dachun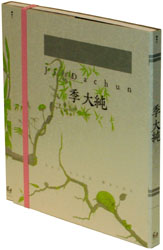 96 pg.

3,800 JPY tax excluded

"When it comes to my artwork, I have always been a man of few words. My paintbrush seems to be more eloquent than my tongue. But I paint everything that I want to say onto my canvases, and I have complete faith in the fact that my works speak for themselves. This is one reason for the gradual change of my motifs; from still lives to animals, to the internal organs that reside within them." (from the book's prologue)
Ji Dachun's paintings, dabbling at times in Chinese tradition and at times in witty pop reference, brim with malice and the artist's own peculiar brand of satirical iconography. A painter who is representative of modern Chinese art, Ji Dachun's presence in his field is undisputed.
This volume features 87 works from early in the artist's career up to the present day.
A number of important critical articles about the work are also included for a well rounded introduction to the strange and enticing world of Ji Dachun.
Ji Dachun
Born 1968, Nantong, Jiangsu province, China
Graduated from the Oil Painting Department of the
Central Academy of Fine Arts, Beijing
Lives and works in Beijing