Miwako Iga : Madame Cucumber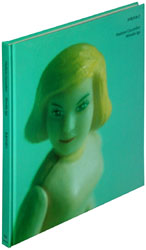 80 pg.

2,500 JPY tax excluded

Artist Miwako Iga constructs a humorous and satirical story with miniature dolls as the protagonists in her photographic works. The expressionless dolls and vibrant motifs seem to add an extra sharp edge to the distressing situations and scenes taken from everyday life which they find themselves in.
The gap created entices laughter while giving a merciless grilling to our notions of the social status-quo. The photos are a reflection of modern society itself.
The volume is comprised of 40 photos by the artist and words which inspired the series. Enjoy together for a peek at Miwako Iga's fanciful narrative world.
This is the first artist book for Miwako Iga.
Miwako Iga
Born 1966
1999 Award of excellence, Canon New Cosmos of Photography
Numerous solo and group exhibitions in Tokyo and Seoul