Shigeno Ichimura: Time Drops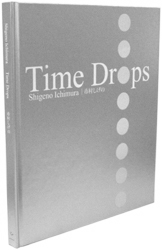 96 pg.

3,500 JPY tax excluded
Artist Shigeno Ichimura creates subtle, cool canvases composed of tight patterns of raised dots and silver industrial paint. The volume 'Time Drops' features a selection of 82 artworks from the artist's 'silver-monochrome' series created between 1996 and 2008.
Ichimura's works when viewed individually can sometimes seem quite subdued, but this artist book provides a rare opportunity to view a large cross-section of work revealing the abundant expressive nature latent within.
A collection of photographs and essays by the artist on his life in New York also provide a glimpse at Mr. Ichimura's internal life and perceptions of the world.
The book uses a carefully selected metallic design in an effort to reproduce the actual artworks as faithfully as possible.
Shigeno Ichimura
Born 1963
Lives and works in New York